Principal Music Instructor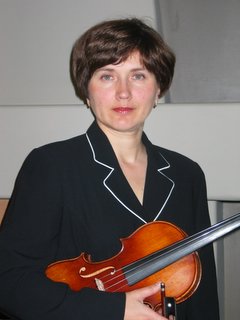 Elena Ilina
is a professional musician who plays and teaches violin, piano and cello for more than 30 years. With her Master Degree in Performance Elena inherited the famous European music traditions. She has had extensive teaching and performing experience since 1983 and has developed remarkable musician skills.
Elena continued teaching violin in her studio in Port Coquitlam since she moved to Canada in 1998. As senior violin instructor, Elena taught violin and string orchestra in
BC Conservatory of Music
while running her own music studio.
As a founder and principal violin instructor of Amadeus School of Music in Port Coquitlam, Elena put her enthusiasm and a lot of efforts to create special learning atmosphere there. The school was created and developed to provide top level violin instructions following traditions of classical European violin school. Many memorable recitals and thematic concerts made this place special during her work as a violin teacher and administrator.
After moving to Vancouver Island Elena continues her work in Silver Strings Studio as violin, cello instructor and string ensemble leader. She is also teaching violin and cello in
Brentwood College School
.
Many of Elena's students are winners of BCRMTA recitals, Kiwanis Music Festival, BCCM and a few others recognizable competitions. Elena puts special efforts in preparation of advanced students to RCM exams where they get excellent marks. Along with individual lessons most of all Elena's students actively participate in Chamber and Strings Ensembles.
Despite of her busy teaching schedule Elena actively performs as solo violinist in her
iViolin
project in numerous public events with specially developed solo violin program. As a principal violinist Elena played in Richmond Symphony and participated in concerts of Sooke Philharmonic Orchestras. She is also an active performer who can be found playing violin in recitals, schools and local churches.