Our Programs
Silver Strings Studio offers private lessons on weekly basis for Violin, Piano, Cello and Chamber music
Violin program
We follow traditional approach of teaching music, when students begin to learn how to "read" music from the very first lessons.
Our violin program is very intensive. It includes working on vibrato, bow division, evenness of sound and strokes developing.
Technique class consists from scales and studies mastering to technique developing.
Repertoire class includes study music pieces of different historical periods and styles, knowledge of composer's biography.
Performer skills of each student have to be evaluated at least twice per year. Although a number of our violin students passed through RCM exams, those exams due to their complexity are not recommended for everybody. Most of the students participate in recitals. They put a lot of efforts into preparation and mastering their pieces.
Sharing our music with others is an important part of the art of playing violin, and it should be considered just as important as learning our music pieces at the lessons. A main goal of performance is to play music with character, delivering the message of the composer. In order to successfully achieve the above, a lot of time and efforts should be dedicated for working on the sound of a piece and mastering the required violin techniques.
Playing with piano improves ability to perceive the whole musical composition to feel fine intonations and inflexions. Therefore we pay considerable attention to the ensemble performance during our education process, where a student leads the main part. For that reason all our students were accompanied by piano or second violin in the recital. Students perform a wide variety of music consisting of exam pieces.
Cello program
Cello lessons focus on playing freely and without tension, so that the player and instrument act as a single unit and can explore the sonorous sound, phrasing, and interpretation that the cello offers.
The cello lessons for beginners are even more important than advanced ones. The way you play the cello depends on the way you take the first steps.
We encourage our students to participate in small ensembles even from first year of learning. Practice for recitals is even more exciting!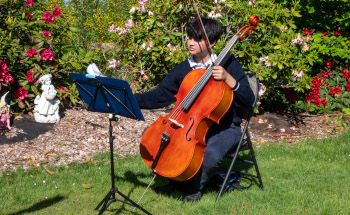 Piano program
Piano lessons, being one of the most popular interests for children and adults in our days, extensively reward those who give a proper attention to it. While playing music, the students, whether they prepare for RCM exam or just enjoy it, enhance their emotional perception and cultivate the sense of beauty.
Our piano teachers use different specific methods to help individual student's needs. During the process of training, students can develop their sight reading, technique, accompany, pedaling and transposing skills. Piano lessons will help them to use musical terminology in a right way or learn how to play by ear their favourite music.
The main purpose of the program is to encourage student's creativity and develop their musical talent. Therefore the musical recitals and concerts are regularly held at school and beyond. There our students can demonstrate their progress in front of the audience of experts and amateurs of the Music, playing as soloists as well as participants in ensembles and duos.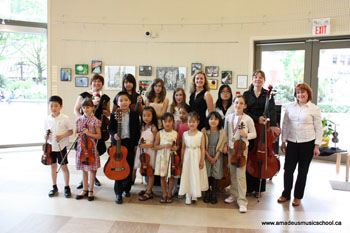 Chamber music program
Chamber Music is a social context of making music with other players/singers for the share fun of working together. It is one of the oldest forms of music making, dating back to the medieval times. However, the music we now associate with chamber music is mostly from classical, romantic to modern eras.
Our program is open for elementary grades to Diploma. Groups are a minimum of three musicians and maximum of six. There is wide variety of music available for all types of instrumental combinations. Under professional guidance, students will become better all around musicians and learn life-long skills in musical collaborations. This is potential for either competition or performance, based on group learning and development.
This program is excellent for players who are looking for high level and musically challenging activities. It offers benefits and opportunities for students to excel their music prospective. Chamber music is wonderful opportunity to make friends and social relationships while learning exiting new repertoire!